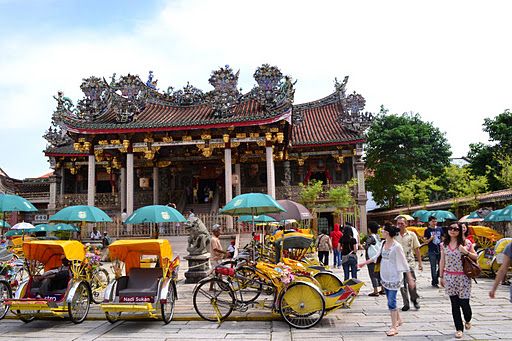 The Kek Lok Si (Temple of Paradise), a Buddhist temple situated in Air Itam, Penang. It is the largest temple in Southeast Asia and arguably one of the most famous in Penang Island. The construction of this temple began in 1893 and was inspired by the chief monk of the Goddess of Mercy Temple at Pitt Street.
When the construction completed, Kek Lok Si became an instant tourist attraction as well as a center of Buddhist devotion. The tourism aspect dominates; however, visitors walk through arcades of souvenir stalls to the top of the pagoda and pay "voluntary" contributions for the privilege of ascending the tower. On Sundays, Kek Lok Si is split into three tiers spread over a rocky incline. The three "Halls of the Great" honor Kuan Yin, goddess of mercy; Bee Lay Hood, the Laughing Buddha; and Gautama Buddha, founder of the faith. It is here that the monks pass their hours in prayer. The Tower of Sacred Books on the topmost tier houses a library of Buddhist scriptures and Sutras, many of which were presented by the Kuang Hsu Emperor of China. There is an edict from the same emperor, cemented into a wall of this block, grants imperial approval to the establishment of the temple.
Kek Lok Si opens daily from 9am to 6pm. Admission is free, except for the small charge of RM 2 each for entry into the pagoda and Sky Lift. Visitors are advised to dress respectfully and not making too much noise in the temple.