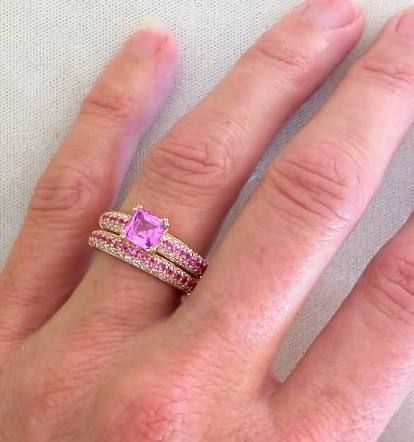 This one will definitely make the girls crazy and gaga about, especially those who really love color pink. Who ever imagine that there's this kind of diamond? A pink diamond one? Yes! there really is a diamond like this, pink diamond. I just discovered that there is a blue colored diamond, and now I'm tackling about a pink colored diamond.
This one is more girly, most girls love pink. But may I say that this kind of diamonds are more expensive than the usual white colored one. Wanting something like this will be very hard to have, unless the Mr. Right will be giving you this and ask you to marry him. Oh come on girls, you will never be thinking and say yes instantly without blinking an eye because you got mesmerized by this undeniably beautiful pink diamond ring.
If you are a single lady not expecting someone to give you something like this, just save and maybe you can afford this kind of diamond ring. And if the time comes that you have the money, take all the things to be considered on buying a diamond. The most commonly considered things on buying a diamond ring are the four C's which is the Clarity, Color, Carat and Cut. Starting with the clarity, the gem should be in good visual appearance and no trace of any blemishes. Second is the Color, this should be perfect in color no fading on its color. Next is Carat, carat is the unit used on measuring gemstones and also pearls. And lastly is the cut, there are variety of cuts to choose from, it's up to you which the pink diamond will look good.